Business Cheques
Offering smart solutions to help you run your business smoothly and securely.
Featured Business Cheque Categories
The right cheques can increase efficiency and protection. Safeguard state-of-the-art secure business cheques feature the latest technology to virtually prevent and detect attempted fraud.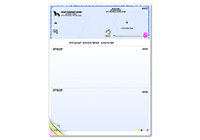 Cheque images are subject to change as we continue to enhance our manufacturing and security technologies.
QuickBooks and Quicken are registered trademarks of Intuit Inc. Sage, the Sage logos, and the Sage product and service names mentioned herein are registered trademarks or trademarks of Sage Software, Inc., or its affiliated entities. All other trademarks are the property of their respective owners.
Discover all the ways Safeguard can help you build your business.
Call (855) 778-2911 or
Email